In Christ Jesus our Lord, God was reconciling the world to Himself setting an example for us and giving each individual who turns around from his old ways the gift of grace, being "born again of water and of the Spirit," to the "ministry of reconciliation." He is Christ the Messiah, "who is the image of God," all-powerful, all-knowing, and ever-present. He did not only come to set us free from the bondage of sin but to show us through his life on earth what it is to live as a man yet be the image of God. God wants to call and heal everyone today through whatever means he chooses under the power of the Holy Spirit.
Please don't mind if we sound too academic in the chart below. The years that we have spent doing ministry in Nicaragua Granada and going to university and seminary to prepare ourselves in theology and psychology; have also allowed us to develop relationships with other professionals who will become an essential part of the envision rural rehabilitation center.

Interdisciplinary Approach for A Future Based Rural Rehab Center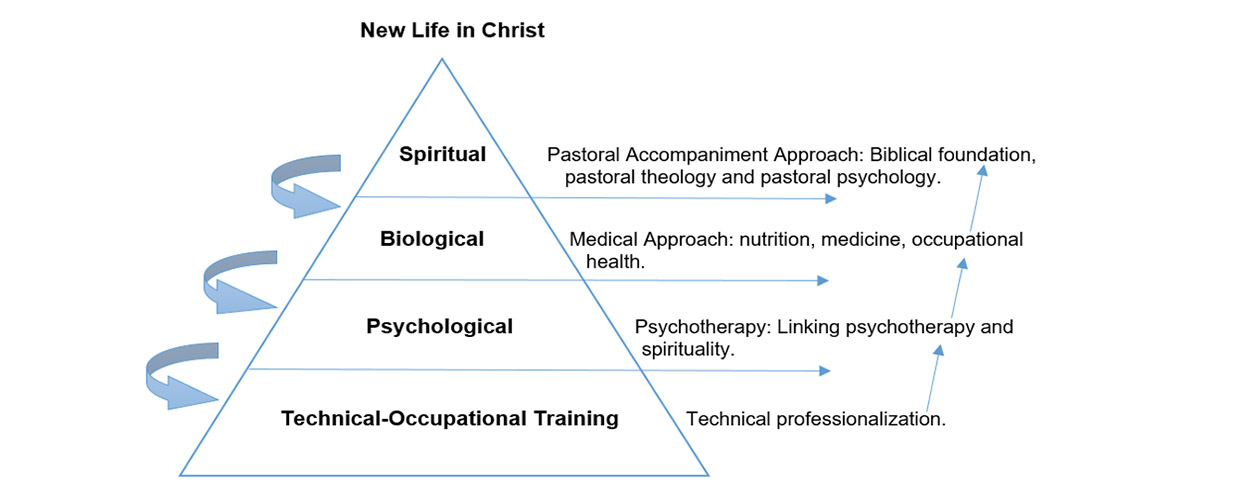 God's power to use many disciplines to remove addictions and strengthen the socially vulnerable and fragile will make the work we do in our rural rehabilitation center possible, effective, and holistic. It is an inductive and integrating approach. God has taught us that all aspects of a person are interconnected; neglect any part and the whole may fail. God wants to restore people wholly and completely, and He has given us the knowledge, wisdom, skills, and scientific disciplines we need to complete his work in people broken by sin and injustice. We believe that it is the Holy Spirit through the redemptive work of Christ and His amazing love on the cross that opens up the mind, heart, and soul of all individuals, bringing life, true hope, and a purposeful life.